Weddings

Ceremonies

Receptions

Parties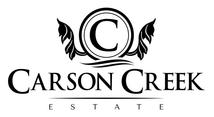 Alcohol:
We allow champagne, signature drink, beer and wine. We require an approved licensed bartender from our list of preferred professional servers.


Catering:
We believe flexibility with caterers helps to make the perfect event. You may use the caterer of your choice.


Rehearsals:
We offer a free one hour rehearsal any day except when there is another event.


Hours:
Venue rental period is from 11am to 11pm, bar must close at 9:30 and all music must be terminated by 10 pm.

Music:
Music needs to be kept at a reasonable volume at all times. Music must be terminated by 10 pm.

Weather:
We have a large barn and tents with side panels to accommodate guests. Additional tents can always be rented from local sources.


Clean up:
Carson Creek Estate will provide garbage cans, garbage bags and recycle bins for cleanup. The renter is responsible for removing all personal items and decorations before vacating at 11 p.m. We will take care of the chairs and tables.


Insurance:
We require event insurance in the amount of $1,000,000 coverage, that also covers alcohol liability, naming Carson Creeke Estates, LLC and Cecelia & Seth Carson as the additionally insured. It can be obtained through https://www.theeventhelper.com/